Honoring our Troops and Veterans

How you can help our Troops -- Homes For Our Troops ... Wounded Warrior Project ... ReMIND.org | Bob Woodruff Foundation ... VFW Unmet Needs Program ... USA Cares ... Purple Heart Homes ... Operation Band Aid ... SSAFA ... Kits 4 Troops ... The Royal British Legion ... Gurkha Welfare Trust ... Afghan Heroes ... DonorsChoose.org ... The Red Sox Foundation and Massachusetts General Hospital Home Base Program ... Help for Heroes... Fisher House --Helping Military Families ... Special Operations Warrior Foundation ... Joining Forces ... Walking with the Wounded ... Dakota Meyer - Honoring Marines By Educating Their Children ... Military One Source ... Operation Homefront ... Invictus Games


Nov 10, 2015 STAND UP FOR HEROES at The Theater at Madison Square Garden - Bob Woodruff Foundation



Prince Harry performs Haka in New Zealand. Prince Harry retired from the military in June, after 10 years service and two tours in Afghanistan.

Dec 28,2014 Formal End to Afghanistan War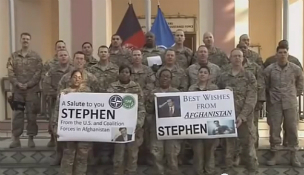 Prince Harry's Spring visit ... Prince Harry visits Walter Reid Memorial (Photo Left) ... Swimming superstar Missy Franklin, U.S. Navy officer Lt. Bradley Snyder and Prince Harry start the Warrior games (Photo right) ... Before visiting the US, Prince Harry helped launch "Walking With The Wounded South Pole Allied Challenge Expedition" - Prince Harry joined the South Pole Allied Challenge Dec 1st thru 13th, 2013 - Three teams of wounded servicemen and women from the UK, the US and the Commonwealth (Australia and Canada) skied to the South Pole together.

War Veteran Bailey Johnson part of the team that helped Angoon win their 3rd B Bracket Gold Medal title in 4 years ... Photo left - Haines' Dave Barry (44) has the ball stripped by Angoon's Bailey Johnson (15) as Angoon advanced to the finals
Bob Woodruff Foundation's "Stand Up for Heroes" is a benefit concert to support the heroic men and women who were injured while serving our country. The event featured Bruce Springsteen, Roger Waters, John Mayer, Jon Stewart, Ricky Gervais, and Robin Williams.

Bronze Star Medal Recipient Daniel Evenson returns home for Christmas (Juneau Empire, Nov 26, 2012)
Spc. Conner Daley, Sgt. Christopher Ernst, Staff Sgt. Adam Davila and Spc. Daniel Evenson, 2-38 Cav. Regt. (LRS), pose for a photo after the awards ceremony. (Photo Left) ... Soldiers with the 2D Squadron, 38th Cavalry Regiment. Daniel Evenson, fifth from right, of Juneau received a Bronze Star Medal. (Photo Right) ... 9 Trackers honored for valor in ceremony (Fort Hood Sentinel)
Honoring our Troops, Veterans, Families, In-laws, Allies and Friends - Memorial Day 2014
Dakota Meyer - Honoring Marines By Educating Their Children--How you can help ...... Dakota L. Meyer (born June 26, 1988) is a United States Marine Corps veteran and recipient of the Medal of Honor for his actions during the Battle of Ganjgal on September 8, 2009, in Kunar province, Afghanistan. He is the third living recipient of the Medal of Honor since the Vietnam War, and the first living United States Marine in 38 years to be so honored .
Marine Corps Ceremony for Sgt. Dakota Meyer, Medal of Honor Recipient
Michelle Obama Huffington Post Exclusive: The Moment I Knew We Could Do More To Honor and Serve Our Military Families (VIDEO) ...... -- and go to -- joiningforces.gov -- to find out what you can do to help military families.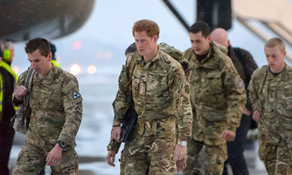 Captain Wales update -- Prince Harry returned home after 5 month tour in Afghanistan. This was his 2nd tour to the frontlines. Photograph: Paul Crouch/MoD/Rex January, 2013
Captain Wales update -- Prince Harry returned to the war front in Afghanistan for 5 month tour. This is Captain Wales 2nd tour in Afghanistan. (September, 2012)
Prince Harry announces that the Walking With The Wounded Everest 2012 Expedition was postponed for this season. -- "Last year, I struggled to keep up with the four British soldiers whom I joined for part of their expedition to walk to the North Pole. Each of these men had recently been gravely wounded on the battlefields of Afghanistan. Theirs was the fastest team to reach the Pole that season. At this very moment, another team of our wounded are returning from Mount Everest. Sadly, I have to be the first to say they have been frustrated from reaching the summit by the unusually warm weather, which brings particularly dangerous conditions. However, the mere fact that they are up there on that fearsome peak, I find totally amazing. Ladies and gentlemen, these people – ours and yours – are extraordinary." Prince Harry (May 8th) ........ Walking with Wounded update (Aug, 2012) Harry's Mountain Heroes - a documentary about the Everest expedition and Prince Harry's involvement with the challenge, screens on ITV1
| | | |
| --- | --- | --- |
| | | |
Wounded British soldiers launch Everest bid ( Telegraph) -- The team who are to climb Everest supported by patron Prince Harry, back row, third from left .Prince Harry, who last year spent four days with a Walking With The Wounded expedition to the North Pole waved the group off from Heathrow airport .... Meet the Team ...... Latest News
Walking With The Wounded Everest 2012 -- After the outstanding success of the North Pole expedition, Walking with the Wounded have set our sights higher for 2012 – to successfully summit Mount Everest and put 5 wounded servicemen on top of the world ...... Walking With The Wounded was established in 2010 to raise funds for the re-education and re-training of our wounded servicemen and women -- How you can help
Captain Wales update -- Prince Harry visited Belize, The Bahamas, Jamaica and Brazil on behalf of The Queen as part of Her Majesty's Diamond Jubilee celebrations.
Prince Harry's Diamond Jubilee tour (Washington Post)
Iraq War: Last U.S. Troops Leave Iraq (Huffington Post, Dec 18th, 2011)

Photo left: Jerry Rice next to Mario Andretti and Ret. Sgt. Latseen Benson in the "IZOD/Honda Fastest Seat in Sports" minutes before the 2011 Indy 500 ... Photo RIght: Ret. Sgt. Latseen Benson and Mario Andretti ...... Wounded Warrior Ret. Sgt. Latseen Benson Rides with Mario Andretti at Indy 500 (Facebook) By Operation Homefront (Official Site) ...... Celebrities enjoy the 2011 Indy 500 Courtesy of IZOD ...... Celebrities Attend The 2011 Indianapolis 500 (The Indianapolis Star)
Video Left: Before other drivers were given the green, Mario Andretti and veteran Sergeant Latseen Benson were the first to do a hot lap at over 190 mph. Veteran Sergeant Latseen Benson rides IZOD "Fastest Seat in Sports" in 2011 (A new Indy 500 tradition.) ..... Video Right: Mark Wahlberg rides first IZOD "Fastest Seat in Sports" in 2010.
| | | |
| --- | --- | --- |
| | Soldiers treated to a potlatch (Fairbanks Daily News-Miner via The Associated Press, Jan, 2011) - The traditional Athabascan potlatch was organized and put on by Interior Alaska Natives to honor and bless the troops, many of whom will soon be deploying, as well as to celebrate the recent return of 300 soldiers deployed to Pakistan in September to assist those affected by record flooding. Potlatch for Troops (Photos by Eric Engman) | |
Sgt. 1st Class Leroy Arthur Petry - Medal Of Honor
Already wounded by a bullet that went through both his legs, Sgt. 1st Class Leroy Arthur Petry picked up an enemy grenade that landed near him and two fellow Rangers and threw it back toward the enemy. Petry has served six tours of duty in Afghanistan and two in Iraq ...... Sgt. 1st Class Leroy Arthur Petry update -- Petry is currently stationed at Joint Base Lewis-McChord, Washington, where he assists injured Rangers. In 2010, he re-enlisted in the Army for an indefinite term of service. As of July 2011, Petry is attending Pierce College.
Green Beret Staff Sergeant Robert J. Miller - Medal of Honor (1983 - 2008)
Miller's team cap­tain was seri­ously wounded within the first min­utes of the attack. While his com­man­der was moved to safety, Miller returned fire. At great per­sonal risk to him­self, Miller remained at the front of the patrol and con­tin­ued to lay down sup­pres­sive fire on mul­ti­ple insur­gent posi­tions, allow­ing his wounded com­man­der to be pulled out of the line of fire, ulti­mately sav­ing his life. Miller's per­sonal courage under intense enemy fire enabled the entire patrol to gain cover and return fire. Even while injured by direct enemy small-arms and machine gun fire, Miller con­tin­ued to employ his M249 Squad Auto­matic Weapon and grenades to sup­press enemy fire and pro­tect his teammates.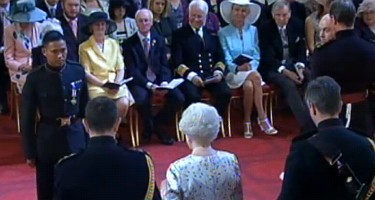 Gurkha awarded Conspicuous Gallantry Cross by the Queen (BBC June,2011) ... Queen awards gallantry medals for bravery in Afghanistan (British Forces News)

Brave Gurkha Diprasad Pun honoured (KentOnline) - Sgt Dip Pun, 32, of the Folkestone-based 1st Battalion Royal Gurkha Rifles, A Gurkha who single-handedly fought off 30 Taliban insurgents has been honoured by the Queen today.
President Obama lays Wreath at Ground Zero, New York City, May 5,2011
Massive 101st Airborne return starts with 3rd BCT soldiers The Tennessean - Jake Lowary - Jan, 2011 -- The energy and excitement was palpable Friday in Hanger 3 when 271 Fort Campbell soldiers returned from Afghanistan, the first wave in a massive return of some 17,000 this year. The soldiers returning on Friday were part of an advance party. They will help prepare the brigade's complex for the other troop returns coming in the next few weeks, Siry said. The bulk of the 3rd BCT soldiers will come home in late January and February, he said ..... The 101st Airborne Division continues its return to Clarksville; Clarksville, TN Online - by Bill Larson - Feb, 2011 -- With the entire 101st Airborne Division (Air Assault) expected home by the end of June ...... Division flag returns with 101st Airborne command group (Clarksville Leaf Chronicle - May 20, 2011)
Veterans Day - November 11 - Gunalchéesh (Thank You)
Remembering our veterans (Gallery) ... Post your veteran photo (ADN)
U.S. and Coalition Casualties (CNN)
US Army Staff Sgt. Salvatore Giunta of Hiawatha, Iowa received the Medal of Honor from President Barack Obama in a White House ceremony on Nov. 16, 2010. Staff Sergeant Giunta's fellow soldiers, his teammates and brothers from Battle Company, 2d of the 503d of the 173d Airborne Brigade were part of the White House ceremony. Staff Sgt. Salvatore Giunta's mother is Rosemary Giunta and father Steve Giunta, his wife Jenny Giunta.
Salvatore Giunta To Get Medal Of Honor, 1st Living Afghan War Veteran Receiving One By Michael J. Crumb (Sept, 2010, Huffington Post) ... Soldier will be first living Medal of Honor recipient from current wars By Leo Shane III and Kent Harris (Sept, 2010, Stars and Stripes) ... "War" excerpt about Staff Sgt. Salvatore Giunta's actions from Stars and Stripes (Sept, 2010)
Outpost Films Presents 'The Sal Giunta Story', from 'Restrepo' a film by Sebastian Junger and Tim Hetherington. This fourteen-minute video tells his story. The complete movie of 'Restrepo' will air on the National Geographic Channel on November 29, 2010 ... Remembering Tim Hetherington
Medal of Honor recipients from the Washington Post Photo Gallery -- A look at the past seven recipients of the Medal of Honor, the nation's highest award for valor, from Iraq and Afghanistan -- Army Staff Sgt. Salvatore Giunta of Hiawath,Iowa ... Jared C. Monti, U.S. Army sergeant first class ... Paul Ray Smith, U.S. Army sergeant first class ... Michael P. Murphy, U.S. Navy SEAL lieutenant ... Jason Dunham, U.S. Marine corporal ... Ross A. McGinnis, U.S. Army specialist ... Michael A. Monsoor, petty officer second class ... Also The President l presented the Medal of Honor posthumously to Staff Sgt. Robert Miller in a White House ceremony on Oct. 6. ..... US Medal of Honor recipients visit Coast Guard Sector in Juneau, Alaska By Klas Stolpe / Juneau Empire Jan 2011

| | |
| --- | --- |
| | |
95 out of 239 5th Stryker brigade's wounded soldiers rejoined the formation at Watkins Field parade ground. Maj. Gen. John D. Johnson pins the Silver Star on Staff Sgt. Jarrett D. Brown of Hoonah, Alaska ..... Hoonah soldier awarded Silver Star By Pat Forgey (Juneau Empire, Aug, 2010)
Welcome Home 5th Stryker brigade (AP, July, 2010) - Over 4,000 Troops returned home from a year long Afghanistan deployment. 239 of the brigade's soldiers were wounded and 95 of those rejoined the formation at the Watkins Field parade ground. Staff Sgt. Jarrett Brown from Hoonah, Alaska, was awarded the Silver Star. He was recognized for his actions when his unit came under attack in the Arghandab River Valley on Aug. 24. Brown exposed himself to heavy enemy fire three times in an effort to slow the enemy's advance and drag his gunner to safety. Staff Sgt. Jarrett Brown is a HHS graduate and eldest son to mother Julie Jackson and father Joe Brown.
Latseen Benson update, Photo Left, (April, 2011) Quick-learner Benson keeps climbing | News | U.S. Paralympic Team ..... Latseen Benson update, Photo 2nd Photo Left, (March, 2011) Latseen Benson competes in the U.S. Adaptive Alpine Championships at Alyeska Resort in Alaska (The Anchorage Daily News) ..... 3nd Photo Left, (Oct, 2010) Benson is wheelchair champion By Manuel Moreno Jr. League City's Latseen Benson won the men's wheelchair "C" division singles championship at the Houston Fall Festival tennis tournament ..... 4rd Photo from left (July, 2010) Iraq war veteran Latseen Benson competes in National Veterans Wheelchair Games - This is the largest annual wheelchair sports competition in the world, this event offers 17 different sports ..... Also in May,2010 Latseen Benson joined other injured war veterans as they prepare to kick off their 3 day 'Wounded Warrior Project Soldier Ride' to San Diego at Santa Monica Pier in Los Angeles on May 19, 2010. The ride brought together thirty wounded warriors from current wars in Iraq and Afghanistan to ride on adaptive equipment from Los Angeles to San Diego ..... Wounded Warrior Project web site. Latseen served with the 101st Airborne.
| | |
| --- | --- |
| | |
Walking With The Wounded trek reaches North Pole on April 16, 2011(BBC) -- The men have broken records by becoming the first team of war-wounded amputees to ski to the North Pole unsupported ..... Team Voiceblog from North Pole --- On Top of the World! --- We made it! --- The final Officers voiceblog from the Geographical North Pole ( Wav format ) ..... Photo Right - Prince Harry joined the Team for the first 4 days of North Pole record trek.
Walking with the Wounded web site ... Meet the team ... Team Blog ... Donate
Prince Harry up North (Video) By Frank Gardner (BBC correspondent) ... Prince Harry to join Army veterans in North Pole trek By Frank Gardner (BBC correspondent) -- Jan, 2011

First Arctic test run for wounded soldiers headed for North Pole in World Record attempt March 2011- By Frank Gardner, BBC May, 2010 ... Harry hopes to join wounded on trek to North Pole. (March, 2010, Telegraph) Prince Harry has said he hopes to join injured servicemen on a North Pole expedition. The team hopes to enter the record books by becoming the first amputees to reach the remote destination. Harry, 25, is patron of the expedition campaign, which was set up this year to raise a target of £1 million to rehabilitate injured service personnel back into employment ... Walking with The Wounded Web site ... Meet the Team - Simon Daglish, Edward Parker, Inge Solheim, Martin Hewitt, Guy Disney, Jaco Van Gass.
Bailey Johnson update March, 2011 -- Angoon are repeat Champions. Angoon 101 - Haines 84 for 2011 'B' Bracket Championship. Gold Medal Basketball
Bailey Johnson March, 2010 (Middle Picture) - War Veteran Bailey Johnson part of the team that helped Angoon win their first B Bracket title in 32 years. Bailey continues to serve with the Alaska National Guard ... Angoon wins first B Bracket title in 32 years over Haines - Tournament MVP Jordan Jamestown led Angoon in scoring with 33 points on the evening, while Curtis Lane pitched in 25 Saturday night. John Croasmum contributed 15 points, while Ozelle Jamestown pitched in 11. But his value was not seen in the scoring department. While there are no official statistics for rebounding, Ozelle Jamestown was clearly a force down low by Matthew Tynan (Juneau Empire 3/28/10) (Photos by Klas Stolpe and David Sheakley Photography - Gold Medal Basketball 2010 ..... Picture right - Southeast Champ Angoon's Bailey Johnson (6-0-0), 24, 160 pounds rocks Former Champ Juneau's Aaron Tucker (17-5-0), 21, 175 pounds in rematch on Oct 26, 2010 at Roughhouse Boxing at Marlintini's Lounge in Juneau Alaska. Like the Sugar Ray Leonard and Thomas Hearn matches the Johnson vs Tucker fights are fast becoming a classic boxing series for their times in their weight division in Southeast Boxing history ... Anther great match Southeast Boxing fans will remember on this night - 'Cobra' earns decision over Duckworth' by Klas Stolpe (Juneau Empire, Oct 26, 2010)
Video Left - Sgt. Adam Sniffen from the 101st Airborne Division delivers the game ball via parachute before the Michigan vs. MSU game at Michigan Stadium in Oct, 2010 (YouTube) ...... Video Right - Soccer Star David Beckham visits Afghanistan rallies the Brits, Nato Allies and our Troops.
Friendly rivals: British and U.S. military personnel pose with the St George's Cross and the Stars and Stripes at the field hospital in Camp Bastion, Afghanistan today (June, 2010, Dailymail.co.uk) ........ FIFA World Cup South Africa 2010 Official Theme Song - Knaan, Waving Flag — "Flags only of the 32 countries participating in the World Cup South Africa 2010." ........ Weezer - "Represent" — Tribute to the USA National Team. WoRLd CuP 2010~!! ........ FIFA.com official site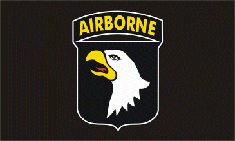 Flying 101st Airborne flags shows support (Boweling Green Daily News, KY 2010) - nearly 25,000 soldiers are set to be deployed, mostly to Afghanistan over the next year. The 101st Airborne Division is based out of Fort Campbell, not that far from Bowling Green, KY. Some of these soldiers who are going to Afghanistan have been on multiple tours in Iraq and Afghanistan.
The last US combat brigade has left Iraq (August, 2010)
The Snowbirds, the Canadian military aerobatics team, perform during the Elmendorf Air Force Base special needs day on Friday. The Snowbirds fly Canadian-built CT-114 Tutor jets. (Photos by Bob Hallinen / Anchorage Daily News)
Air show begins in wake of tragedy (ADN, July 2010) ... On Friday, the U.S. Navy Blue Angels tore into the sky, six planes in perfect formation. The Canadian Snowbirds also pierced the sky. Below them, across Elemendorf Air Force Base, flags flew at half staff ... Biographies: Crewmen killed in C-17 crash, Major Aaron W. Malone, 36, Major Michael H. Freyholtz, 34, Captain Jeffery A. Hill, 31, Master Sergeant Thomas E. Circado, 47 ... Blue Angels Missing Man Formation (YouTube)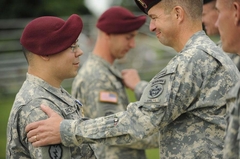 Brave acts in combat earn two Fort Rich soldiers Silver Stars by Blair Maloney, (ADN, June, 2010) - Spc. Robert Parson, left, is congratulated after he received his Silver Star. The Silver Star, for gallantry in action, is the third-highest military decoration that can be awarded in the U.S. armed forces. Parson was exposed to gunfire, and was shot at least twice, while making attempts to recover a wounded squad leader on August 26, 2009, in Sar Howzeh. Spc. Ryan Chester placed himself in danger to fire a machine gun in combat despite being wounded by shrapnel, which allowed for the evacuation of wounded soldiers, on July 6, 2009, in Moshak. He fought continuously for 25 minutes unprotected after being thrown from his vehicle ... Awarding Silver Stars for Spc. Robert Parson and Spc. Ryan Chester (Photos Marc Lester, ADN)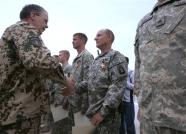 14 US troops receive German medals for bravery (AP, May, 2010) — " We've had a strong partnership with the German soldiers," said Sgt. Antonio Gattis. "These guys are like family to us, so we took it personally when they got injured and just went out there and did what we had to do." ........ NATO soldiers bid farewell to slain Canadian (AP) — Canada has won praise from NATO partners for its dogged role in combat and reconstruction efforts in southern Afghanistan ........ First Georgian troops back from Afghanistan without loss (AP) — The Georgian troops took part in ISAF (International Security Assistance Force) operation under the French Command in Kabul. Anther 750 Georgians on the way to Afganistan war front ........ Royal Australian Air Force Health Services personnel honoured by Netherlands — They were recognised for their deployment to Tarin Kowt in southern Afghanistan in which, alongside their Dutch counterparts, they provided combat health support for the NATO-led International Security Assistance Force and to the local Afghan communities ........ Obama thanks Italian leader for alliance efforts (AFP) — US President Barack Obama thanked Italy for its troop contributions to efforts in Afghanistan and elsewhere as he welcomed President Giorgio Napolitano at the White House Tuesday ........ AP source: US seeks Pakistan crackdown on Taliban ........ Afghanistan: Emerging US-India-Australia Alliance (The Moderate Voice) ........ NATO in Afghanistan: World War in One Country -— Nations with a presence in Afghanistan now include the United States, Norway and Sweden. With recent announcements that Montenegro, Mongolia and South Korea have become the 44th, 45th and 46th official troop contributing nations - Bahrain, Colombia, Egypt and Jordan have already supplied or pledged troops but have not yet been given that designation - there will be military units from 50 nations on all six populated continents serving under the North Atlantic military alliance in a war in South Asia that will enter its tenth year on October 7.
Barack Obama rallies troops on visit to Afghanistan. Includes Video (BBC, Sunday, 28 March, 2010) ... Obama Afghanistan Visit: President Makes Surprise Trip (Huffington Post)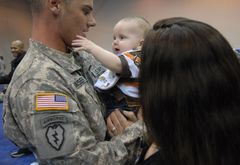 Paratroopers Homecoming photos by BILL ROTH / Anchorage Daily News (Slide Show) ... Paratroopers from the 4th Brigade Combat Team (Airborne), 25th Infantry Division, were welcomed home to Fort Richardson from Afghanistan on Sunday, Feb. 7, 2010
US Marines End Role In Iraq, Biden Holds Talks In Baghdad
By Adam Schreck (Huffington,1/23/10)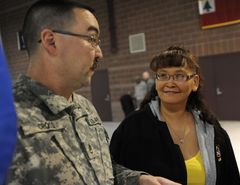 Army Guard Welcome home Photos by BOB HALLINEN / Anchorage Daily News, Jan 5, 2010.
A welcome home ceremony for F Company, 1/207th Aviation at Camp Denali on Tuesday January 5, 2009. The 30 soldiers from the Army National Guard returned from their third deployment in Iraq where they transported cargo and personnel across Iraq and Kuwait, using C-23 aircraft (ADN, Jan 5, 2010)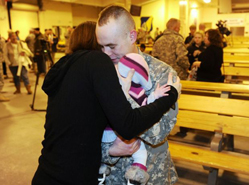 207th Aviation regiment returns from Iraq (Photos by ERIK HILL / Anchorage Daily News, 12/29/09)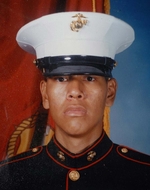 Funeral for Marine Cpl. Gregory Fleury, 1986-2009, (ADN, Nov 6th 2009) ... Sign and view the Guest Book for Cpl. Gregory Fleury ... Cpl. Fleury was born in Sitka and lived in Anchorage. He was the son of Sealaska tribal member shareholder Chris Flygare - In Memory of Marine Corps Corporal Fleury By Chris E. McNeil, Jr. (Sealaska eNews, Oct 30, 2009) ... Alaska's Fallen Soldiers (ADN)
Obama offers thanks to airmen, soldiers at Elmendorf Air Force Base in Alaska By Richaed Mauer (ADN, Nov 12, 2009) - President Barack Obama addressed a cheering hangar full of airmen, soldiers and their families. Alaska Senator Mark Begich and Former State Rep. Ethan Berkowitz were also at Elmendorf Air Force Base to welcome President Obama. The President said he met with the family of Marine Cpl. Gregory M.W. Fleury, a Service High graduate who died Oct. 26 while serving in Afghanistan. "Raised in Anchorage, he joined the Marines and served two tours in Iraq. He loved the Corps, he loved Alaska, so much so that he carried the state flag with him everywhere," Obama said. "It was with him last month when he was killed in those helicopter crashes in Afghanistan."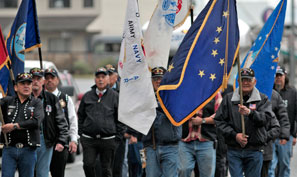 The Southeast Alaska Native Veterans Color Guard leads Native veterans Wednesday along Willoughby Street from Centennial Hall to the Alaska Native Brotherhood Hall on Veterans Day. (Photo by Klas Stolpe / Juneau Empire, Nov 12, 2009)
Tlingit Dance Group performs Wednesday for veterans and guests at the Alaska Native Brotherhood Hall Veterans Day on Veterans Day. (Photo by Klas Stolpe / Juneau Empire, Nov 12, 2009)
Obama Visits Dover Air Force Base To Honor Fallen Soldiers (Huffington Post 10/29/09)
Royal Scots Dragoon Guards win best album at Classical Brit Awards (Times Online, May, 2009)
"Operation Iraqi Stephen: Going Commando" The Colbert Report will present a week of shows from Iraq starting Monday -- June 8 - 11, 2009. Stephen Colbert - Some News is so Big it needs its own page - Huffington Post
Britain's Prince Harry bowed his head after dedicating a wreath of flowers at ground zero on Friday (Stephen Chernin/Associated Press)
Solemn trip for Prince Harry as he meets firefighters at Ground Zero (Daily Mail) ... Harry lays wreath at Ground Zero (BBC Video, May 29, 2009) - Prince Harry has laid a wreath at the site of the World Trade Center in New York, After observing a two minutes' silence, he was taken on a tour of the site before meeting firefighters who were involved in the rescue attempt. He will also visit a memorial to those Britons who died in the 2001 attacks. During his two-day trip, the prince will meet wounded Iraq and Afghanistan war veterans at a medical centre. Harry's team won the Polo match 6-5 in New York City (Huffington Post Pictures) for Sentebale - A charity supporting orphans and vulnerable children in Lesotho, founded by Prince Harry and his friend Prince Seeiso of Lesotho. After the match Lieutenant Wales of the Household Cavalry returned home via commerical airlines.
3rd Battalion, 297th Infantry, Army National Guard Bailey Johnson update - Gold Medal Basketball Star wins Boxing Title ...
Showtime at Southeast Showdown - 22-year-old Bailey Johnson wins title belt from Aaron "Red Baron" Tucker ...."I think this was the best fight of the night," said promoter Bob Haag .... also Shaun Guthrie and Tongan Toni Talamai all grabbed respective title belts at the 2009 Roughhouse Boxing Southeast Showdown Friday at Marlintini's Lounge by Courtney Nelson (May 15, 2009)
Reigning champ falls in Friday night fights - Angoon's Bailey Johnson surprises Juneau's "Red Baron" Tucker By Courtney Nelson | For the Juneau Empire. Twenty-two-year-old Bailey Johnson, of Angoon, shocked the packed crowd at Marlintini's Lounge Friday for the monthly Roughhouse fights. Johnson picked up an electrifying victory over 2008 Roughhouse Southeast Showdown Champion 19-year-old Aaron "The Red Baron" Tucker, of Juneau. Bailey Johnson served a 15 month deployment tour in Kuwait and Iraq with the Alaska Army National Guard. The Alaska Army National Guard also provided "around the clock" highway security for convoys driving in southern Iraq. Bailey is also a Gold Medal Basketball MVP in 2007 leading Angoon to the Intermediate Bracket Championship while he was on leave from the middle east. Bailey Johnson is one of the Gold Medal Basketball stars in the B Bracket playing for Angoon today. For Fans of Aaron "The Red Baron" Tucker - Aaron has successfully made the transition to extreme boxing and is a considered a future champ in this sport which combines martial arts and boxing.
Memorial Ceremony for PFC Patrick Allen DeVoe II at the Fort Richarson chapel (ADN -Video by Bob Hallinen) ... Hundreds gather for fallen soldier's send-off in New York. Patrick Devoe: Fort Richardson soldier was slained on patrol in Afganistan (ADN - March 16th, 2009)
Operation Arctic Care, Military medical outreach coming to Western Alaska (Tundra Drums - February 05, 2009)
Alaska Spartan Brigade returning to War Front - Next stop -- Afghanistan - By Gina Cavallaro (ArmyTimes.com - Jan 18th, 2009)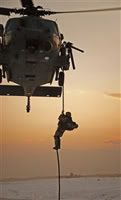 Alaska Guardsmen Save 167 Lives in 2008 (Army.com - Jan 16th, 2009)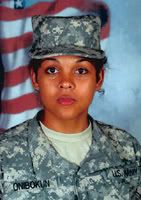 Recognitions - Juneau Empire -Private Bethany R. Onibokun, of Juneau, 101st Airborne , 2nd tour in Afghanistan.The daughter of Vilda Cooday a Vietnam Era Veteran (September 12, 2008) Bethany has returned home (Summer 2010)
Soldiers celebrate family - FORT RICHARDSON, Alaska -- It took more than training and teamwork to help the Alaska National Guard's 297th Support Battalion return home safely from its mission overseas. It took support from loved ones back home. During a freedom salute ceremony Sunday at Fort Richardson, the troops said thank you to the ones they left behind. by Leyla Santiago Sunday, July 27, 2008 (KTUU.com)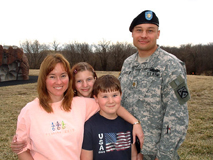 Update July 9th, 2008 for Alaska National Guard Maj. Joel Gilbert - The Gilberts (l.-r., Laura, Kayleigh, Angus and Alaska National Guard Maj. Joel Gilbert) at Fort Leavenworth, Kan., one of the families featured in Nickelodeon "Nick News" special, "Coming Home: When Parents Return from War," by Richard Huff, New York Daily News TV Editor.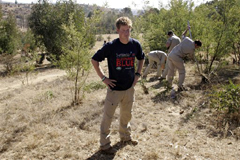 Update July 8th, 2008 - Prince Harry makes Mom and all of us proud (Huffington Report) - Lieutenant Wales and his regiment, the Household Cavalry, are revamping a school for disabled children in the impoverished African kingdom of Lesotho.
Sentebale - A charity supporting orphans and vulnerable children in Lesotho, founded by Prince Harry.
Shout out to all our Troops on this Fourth of July!
Southeast Alaska Native Veterans Memorial Day Program Web Album from Tlingit and Haida web site (May26, 2008)
Medic in Alaska Guard earns Bronze Star. Spc. Veronica Alfaro stands next to the light medium tactical vehicle gun truck she was driving on Jan. 15 in Iraq when her convoy was ambushed. Spc. Veronica Alfaro rushed through a blitz of gunfire as she tried to save the lives of two civilian convoy drivers injured in Iraq received the military's fourth-highest combat award this week, according to the Alaska Army National Guard. She is deployed with the Alaska Army National Guard's Bravo Company, 297th Support Battalion, Alaska Army National Guard. (3/26/08)
In Memoriam: 4,000 (3/23/08) ... Forces: U.S. & Coalition/Casualties - Special Reports from CNN.com
Over 29,314 U.S. Wounded (3/24/08) - Wounded Warrior Project ... Bob Woodruff Family Fund ...Operation Band Aid supports wounded soldiers ... Daily Show's Stewart 'Quietly Visiting' Ailing Iraq Soldiers - The Huffington Post.
Sealaska Shareholder Honored by Alaska Territorial Guard - Sealaska shareholder and World War II veteran, Sigurd H. Edwards, 81, was formally honored and discharged from the Alaska Territorial Guard (ATG). Approximately 100 friends, family, civic officials, Tlingit dancers, and military personnel, who arrived in a special military plane, attended the ceremony ... More Alaska Territorial Guard Members serving Since WW2 Receive Official Discharge
Prince Harry returns Home ... Prince Harry in Afghanistan fighting (BBC) ... In Pictures: Prince Harry in Afghanistan (2-28-2008)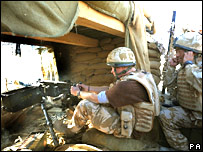 Prince Harry with the legendary Ghurkhas who were coming under attack on a daily basis. Indeed, on one occasion when Harry was present five members of a Taleban unit were spotted in "no-man's land" and were attacked - including by Harry using a heavy machine gun. Prince Harry has praised Gurkhas soldiers he has been fighting alongside in Afghanistan. Prince Harry receives Afghan medal - Telegraph (5-6-2008)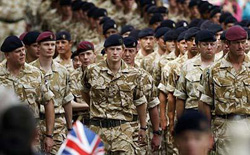 Lieutenant Wales and his comrades paraded through Windsor - Telegraph( 5-6-2008)
Prince Harry was also on operations in the Helmand desert with his troop of Household Cavalry and was a Battlefield Air Controller known to all Pilots as Widow Six Seven.
| | |
| --- | --- |
| Prince Harry | Prince Andrew |
Royal warriors with a service tradition - Telegraph
Prince Harry's favorite Band Towers of London (Video)
USA Cares Reaches to Alaska - (CSRwire) BARROWS, AK - January 22, 2008 - SPC Sanchez, of the Alaska National Guard, returned home to Barrow Alaska from Iraq in November of 2007 where the temperatures, at times, had soared above 120o . His hope was that he, his wife, and his five children would return to a normal life. While he survived Iraq, the Alaskan winter was waiting. Resources - Military One Source ... USA Cares ... VFW Unmet Needs Program
Welcome home to Alaska Col. Michael Garrett and the 4th Brigade Combat Team (Airborne), 25th Infantry Division. A welcome home Photos and audio by Bill Roth of ADN - 3500 paratroopers and their families were honored at a welcome home redeployment ceremony at the Sullivan Arena Wednesday December 19, 2007.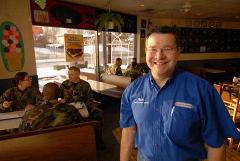 Alaskan's generosity earns national honor - An Anchorage man who every year serves hundreds of ice cream sundaes in rural villages as part of the Alaska National Guard's Operation Santa.
Latseen Benson update. - Latseen hand-cycled the 2007 New York City Marathon. Latseen finished first for his Achilles Team, and 18th overall in a field of six dozen cyclists.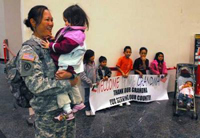 ADN Photo Gallery Guard homecoming - Alaska Army National Guardsmen return after a 16-month deployment to Mississippi, Kuwait and Southern Iraq

Staff Sgt. Betty Kaeo said she wants to see something green. Photo courtesy U.S. Army.
Guard unit on way back to Alaska - Since the 3rd Battalion's arrival in Kuwait, however, its central mission there -- to protect coalition forces -- has expanded in April to providing "around the clock" highway security for convoys driving in southern Iraq. ADN Published: Oct 6, 2007
Alaska Guard troops coming home - Anchorage Daily News Published: October 5, 2007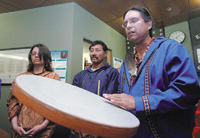 Gilbert Daney, right, closes a talking circle with a song at the Southcentral Foundation Traditional Healing Clinic in Anchorage, Alaska, Photo Associated Press
Ancient methods supplement health care for Alaska Native veterans - Alaska Native communities are preparing for the return of Alaska Native veterans from service in the Middle East in Oct. The soldiers, who are part of the largest Alaska National Guard deployment since World War II, have been gone for almost a year. The unit represents 81 different communities and more than a half dozen cultures, including Eskimos, Tlingits, Haidas, Aleuts and Athabascans. Some of our Alaska Native veterans returning have already served their first tour in Bagdad, but returned to the Middle East to support family, inlaws and friends on thier first tour.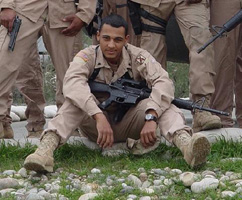 The Cooday family welcomes back home Black Hawk Crew Chief Erin J. Smith. Erin serviced 2 tours in Iraq and 1 tour in Afghanistan. He returned August 2007 from Afghanistan. Erin's new assignment is New Orleans. Evin and his wife drove down there from Ft. Drum, NY. When they got to Georgia, they ran into a tornado and had to outrun it. Erin's wife is Yemi Rose, his daughter is Maria Ann and son is Camryn Alexander and mother-in-law U.S. Army veteran Val Cooday, Vietnam era veteran from Petersburg (Seet Kah), Alaska. To Contact Erin and Yemisi Rose Smith mrsyemisirose@yahoo.com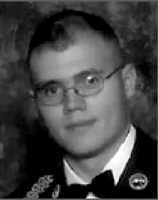 Staff Sergeant James C.Haddox, Air Borne division, returned home from Iraq. He was awarded the Purple Heart in March 2006. He was honorably discharged from the Army March 2007. He served 16 monthes in Iraq. He survived two roadside bombing in Mosul & Bagdad. Haddox and his wife live in North Pole, Alaska. His Morther, Martha Ann Saenz, said Haddox's family"is very proud of him for seving his country, and we are very thankful he has returned home in safety."
Click on photos for larger images
Photo Left - Kick save: Juneau University of Alaska Southeast player Larry Cooper takes a leap while guarding Angoon's Stephen Johnson in Wednesday's Intermediate Bracket game. Juneau UAS' Ian Schmitz is on the right. Photo by Michael Penn / Juneau Empire ... .Photo 2nd from left Left - Welcome back: Angoon player Bailey Johnson enters the gym midway through the second half of his team's Intermediate Bracket game against Juneau UAS in the Juneau Lions Club Gold Medal Tournament. Johnson flew in Wednesday after serving nine months in Kuwait with the Army National Guard. Photo by Michael Penn / Juneau Empire ... Photo 2nd fom right - Rising to the challenge: Bailey Johnson of Angoon scores two of his game-high 30 points against Kake on Thursday during the Juneau Lions Club Gold Medal Tournament. Photo by Brian Wallace / Juneau Empire. ... Photo Right - Bailey Johnson leads a fast break Thursday against Kake in I-Bracket in Gold Medal Baskeball Tournment action. Photo by Brian Wallace / Juneau Empire. Bailey Johnson scores 23 for Angoon 79 in finals win over Juneau UAS 69 for the Intermediate Bracket Championship on Saturday.
Article - From one sacrifice to the next ... Angoon soldier goes straight from Kuwait to the hardwood. By EMIL WEST. FOR Juneau Empire.
Master Sergeant Patrick Meegan of the 207th Infantry Unit of the Alaska National Guard awarded the bronze star with valor and the French defense nationale medal. This is his 5th bronze star.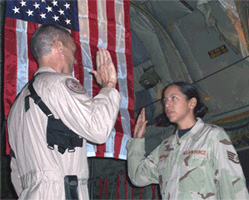 Air Force Staff Sergeant Hallie Coleman Wins Joint Service Achievement Medal ... From Shareholder News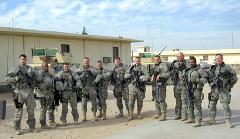 Photo by RICHARD MAUER / Anchorage Daily News
Click on photo to enlarge
Members of the Military Transition Team from Fort Richardson's 4th Brigade who were involved in the Najaf battle include, from left: Capt. Richard Fenner; Master Sgt. Christopher Crawford; Capt. Joe Denning; Lt. Col. Stephen Hughes; Maj. John Reed; Master Sgt. Thomas Ballard; Sgt. 1st Class David Lawson; Sgt. 1st Class Joe Brummell; Sgt. 1st Class Cary Wallum; Capt. Pace Duckenfield; and Master Sgt. Jarrod McNabb. ( February 18, 2007)
Statue honors Territorial Guard - Local Native artist James Grant was among friends Friday night as he presented his latest work to board members of the Alaska Native Veteran's Association Chapter 1. The foot-tall, brown wax statue depicts a World War II Alaska Native soldier, rifle in hand, parka and mukluk clad, and body in motion, leaning forward, as if the soldier was plowing through a fierce wind or storm. It passed muster with a crowd who had personal experience as Alaska Native veterans. For more information on the Alaska Native Veterans Association or on how to donate to the project, contact the ANVA, 1006 22nd Ave., Fairbanks AK 99701 or call 452-3344. February 3, 2007
Deaths reinforce resolve of troops said Col. Michael Garrett, The commander of Fort Richardson's airborne brigade serving in Iraq. January 26, 2007 ... Col. Michael Garret and the soldiers thanked all Alaskans for thier support.
One deadly day for Alaskans in Iraq - Eight soldiers from Fort Richardson division died Saturday in bloody fighting across Iraq ... MySpace accounts become online memorials ... January 24, 2007 ... Twenty-one members of the brigade now have died since arriving in Iraq last fall.
Alaska Army National Guard celebrates soldiers - The Alaska Army National Guard recognized soldiers and their spouses today at a ceremony to honor those who have served their country. Anchorage, Alaska. Jan. 21, 2007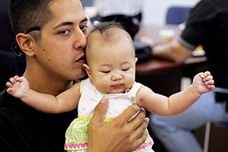 Matt Uelese kissed and held his daughter, 4-month-old Caydence, yesterday as 58 Hawaii Army National Guard soldiers gathered with family and friends before boarding buses to get on planes headed for Afghanistan
Isle guardsmen deploy to Afghanistan ... The infantryman with the Hawaii Army National Guard's C Troop, 1st Squadron, 299th Cavalry, was one of 58 soldiers who left the islands to fight in Afghanistan. January 19, 2007
Hawaii Guardsmen posed for a group photo yesterday before heading out on buses. They will be assigned to the 29th Brigade's subordinate unit -- the 1st Battalion, 158th Infantry, belonging to the Arizona Army National Guard -- and will spend the next three months at Fort Bragg in North Carolina training for an Afghan deployment
Lt. Commander Gerald Ford being piped aboard one last time by US Navy Senior Chief Boatswain Mate Carlos Ribott at WW 2 memorial in Washington DC ... (Video 1) ... (Video 2) (MSNBC)
Veterans' totem ascends
'Warrior Pole' carved by Sitka veteran, George Bennett Sr, a Purple Heart and Bronze Star recipient. He served as a radio operator in the 25th Infantry Division in Vietnam (1967-1968). Bennett's 6-foot-tall "Warrior Pole," in salute to veterans, was raised Thursday during a noon cultural celebration outside the Alaska Native Brotherhood Hall in Juneau, Alaska. A dance group performed and speakers from the Raven and Eagle moieties shared their thoughts.
By KORRY KEEKER (Article)
JUNEAU EMPIRE
| | | |
| --- | --- | --- |
| Click Photo below to enlarge | | |
| | | |
Photos by Michael Penn / Juneau Empire
On the rise: Ozzie Sheakley, commander of the Southeast Alaska Native Veterans, lower right, receives help setting a totem, "Warrior Pole," at the Southeast Alaska Native Veterans Memorial.
Adam Beach praised for portrayal of Ira Hayes in "Flags of Our Fathers." Colleagues Praised Native actor Adam Beach portrayal of Ira Hayes, the Pima man who helped raise the American flag. Adam was in the running for an Ocar for Supporting Actor. Alan Arkin, Eddie Murphy, Jackie Earle Haley, Djimon Hounsou and Mark Wahlberg heading into the Ocars for Supporting Actor.
The new veterans among us: women ... The Women Behind the Soldiers (Video) also for the Men behind the Women in the miltary from SaxPlaya86.
AIROS Native Network ... Special Dedications for the Holidays. Send out a special shout out to your loved ones this holiday season. Get us your seasons greetings by December 21st and we'll play them within our live stream during the appropriate holiday (Christmas, Winter Solstice, New Year's Day.). You can e-mail your shout out in mp3 or wav format to airos@unl.edu. You can also call in your message to 402.472.3287 and we'll record it for broadcast.
Oct 2nd, 2006 ... Over 600 of Alaska's 3rd Battalion, 297th Infantry heading for Iraq ... Gen. Craig E. Campbell, adjutant general of the Alaska National Guard, said the nearly 600 soldiers in the 3rd Battalion, 297th Infantry come from 81 different communities in the state, representing more than a half dozen cultures - Eskimos, Tlingits, Haidas, Tsimshians, Aleuts, Athabascans, Alaskans.
Duff W. Mitchell commander of the 3rd Battalion, 297th Infantry, said "Many of our soldiers are descendants of men who served with Muktuk Marston during World War II, and they are very proud of their heritage and roots in Alaska. We are the largest deployment of Alaska guardsman since World War II and one of the largest percentages of Native Americans serving in Iraq. Our unit crest is distinctive in that it is the only Native American crest in the Army today. "
Officials said The 297th is the only activated Army unit with a Native American language motto. The battalion's Southeast Alaska Tlingit motto, Yuh Yek, means: "Be on watch. Ready to fire."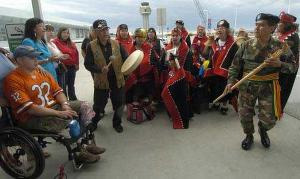 Photo by BILL ROTH / Anchorage Daily News
Click on photo to enlarge
Latseen Benson returned to Alaska for the 26th National Veterans Wheelchair Games in Anchorage, Alaska. He was greeted by relatives and friends along with Tlingit and Haida dancers at Ted Stevens Anchorage International Airport. Latseen is attending College.
"I am excited to be able to be a part of the National Veterans Wheelchair Games and compete against other veterans in my home state," said Benson, who skied the Rocky Mountains at the National Disabled Veterans Winter Sports Clinic earlier this year.
Anchorage, Alaska. -- July 5,2006 -- Latseen Benson, a disabled Army veteran from Washington, D.C., is competing in the 26th National Veterans Wheelchair Games, being held through July 8 in Anchorage, Alaska. With more than 550 athletes from 46 states, Puerto Rico and Great Britain, this is the largest annual wheelchair sports event in the world. Latseen Placed Gold in the following events Archery Para with Recurve Bow, Track - 400 Meters (II, III, IV, V) and Basketball ... NVWG_2006_Gallery

Latseen Benson marches in the 4th of July Parade with his wife, Jessica. and mother Diane Benson. Latseen's Dad Tony Vita is holding the American Flag and leading the parade. Over 550 athletes marched with Latseen in Anchorage for the 26th Annual Veterans Wheelchair Games. Photos from NVWG_2006_Gallery ... Honoring Our Troops and Veterans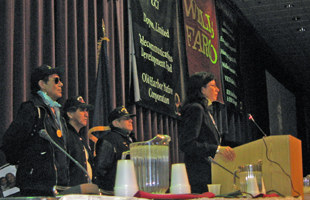 Flanked by a Native Veterans Honor Guard from Southeast Alaska, Diane Benson, the Democratic nominee for the Alaska's lone U.S. House seat, addresses the delegates at the Alaska Federation of Natives Convention in Anchorage on Oct 27th. Photo by Latseen's Dad Tony Vita.
Click Photo below to enlarge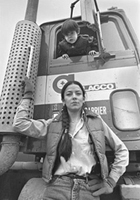 Childhood photo of Latseen Benson with his mother Diane who worked on the on the Trans-Alaska Pipeline. "Latseen" means "strength of mind, body and spirit" in Tlingit.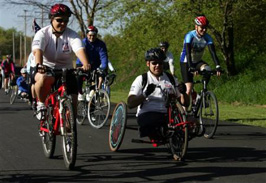 U.S. Army Specialist Latseen Benson, center on the hand trike, and his wife Jessica Benson, left, both from Fort Campbell, Ky., bike during the two-day 2006 Face of America Bike Ride in Gettysburg, Pa., Saturday, April 29, 2006. Benson was struck by a roadside bomb in Tikrit, north of Baghdad loosing both legs. World T.E.A.M. Sports (The Exceptional Athlete Matters), working with the Walter Reed Army Medical Center and The National Navy Medical Center hosts the ride from Gettysburg to the Walter Reed Medical Center in Washington to honor and assist disabled servicemen and women returning from the wars in Iraq and Afghanistan.