Our Celebrities
Native American Actors - NativeCelebs (Annies is the #1 resource online.)
Annie at NativeCelebs on MySpace (Includes Singers, Bands and Music)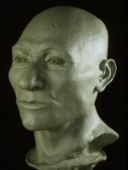 DNA Proves Kennewick Man, The Ancient One, Is Native. Tribes Continue Fight for Reburial by Kevin Taylor (Indian Country Today Media)

Photo Left - In this episode of Stories From The Land we hear an incredible story of survival and rebirth from Tlingit/Aleut artist Nicholas Galanin. (Indian Country Today) Video Center - After Nicholas Galanin survived his accident in 2014 he released his latest album 'Starry Skies Opened Eyes' under his musican name Silver Jackson. Photo right - This spring and summer Silver Jackson is part of the Red Road Tour in the lower 48 with Erik Blood, Tay Sean Brown, OCnotes, Kristi Lane Sinclair. Silver Jackson returns to Sitka Alaska for the final 10th annual Homeskillet Fest on July 31st and August 1st, 2015.

Walter Soboleff Center Opening
| | | |
| --- | --- | --- |
| | | |
Tlingit Artist & Musician Preston Singletary's Glass Screen for Walter Soboleff Building's Clan House. Photo Center Haida artist Robert Davidson's 40-foot red steel panels on the Walter Soboleff Center. Photo Right - Tsimshian Artists David. A. Boxley and son David.R. Boxley designed the a 15-foot tall, 40-foot wide Tsimshian clan house front. Sealaska Heritage Institute News

Preston Singletary following Tlingit Nation Master Carver Nathan Jackson in a procession to the canoe landing (photo courtesy Preston Singletary) Tlingit carver Wayne Price's canoe and Haines residents arriving for the opening of the Walter Soboleff Center. (Photo Michael Penn, Juneau Empire)
Welcome to the 69th Gold Medal Tournament in Tlingit Country March 16-21, 2015, Presented by the Juneau Lions Club (Offical Site)
2015 Photo Gallery (Juneau Lions Club) ... Gold Medal Basketball Tournament (Fan Site)
Gold Medal Basketball the bridge between winter and spring where players, teams and their fans achieve fame.
Champions of the W Bracket - HOONAH ... Champions of the B Bracket - HYDABURG
Champions of the M Bracket - HOONAH ... Champions of the C Bracket - HYDABURG


10th annual festival HOMESKILLET FEST July 31st and August 1st, 2015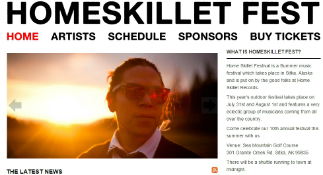 2015 LINE-UP INCLUDES - Breathe Owl Breathe, The Wool Pullers, Silver Jackson, Budo, Erik Blood, OC Notes, Strummin Dog, Benjamin Verdoes
Chimurenga Renaissance, Iska Dhaaf, Kirt Debique More acts TBA!


Video Left - A Tribe Called Red - Burn Your Village To The Ground - Featuring Wednesday Addams, daughter of the Addams Family



Video Right - Wednesday Addams and her friends burning down the Pilgrim's village during the first Thanksgiving. Wednesday Addams inspires! We can adopt her, her family,in-laws, friends and allies. Keep Updated - Idle No More and Occupy Wall St.

Featured Photographer Matika Wilbur ... Artist & Musician Bunky Echo-Hawk ... Featured Band - Khu.éex

Photo left 'Ruth Demmert (Tlingit) by Matika Wilbur. The world of modern Native Americans revealed in stunning photographs (Daily Mail UK). Photo Center Bunk Echo-Hawk on the cover of Oklahoma. Bunky Echo-Hawk (Offical Site) BunkHaus Wax Music, Lyrics, Songs, and Videos. Photo Right - Jan 23, 2015,The Royal Room Presents Khu.éex- Native-Insprired jazz-funk-grove. Featuring Bernie Worrell, Stanton Moore, Skerik Sin Carne, Om Om Johari, Captain Raab, Nahaan FastsFrom English, Davee C Carpenter and Preston Singletary. Clarissa Rizal and Gene Tagaban are also members of Khu.éex. Khu.éex' translates to "potlatch" in the Tlingit language.

| | | |
| --- | --- | --- |
| | | |
Ride to Reverse Diabetes 2014 (DEMOTROPOLIS) The campaign will be launched in a motorcycle ride across Indian land starting Saturday, August 23, 2014 from San Francisco Crissy Field and due to arrive in Washington DC on September 26th. A Declaration of War Against Diabetes, has been declared by Nowa Cuming Institute, and Dennis Banks, Anishinabe, national leader and co-founder of American Indian Movement (AIM) who will help as senior adviser to lead the effort. Ride To Reverse Diabetes 2014 on Facebook (Closed FB Group by mistake, updated with photos) Ride To Reverse Diabetes 2014 on Facebook (Open Group with added new FB supporters also updated)

Featured Exhibit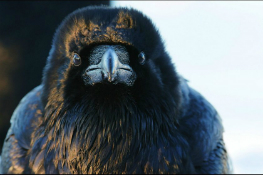 Artbeat by Mike Dunham (ADN)"Edgar Allen Who?" digiyal photography by Mark Hoover. Showing at the Alaska Native Arts Foundation, 500 W. 6th AVe. Courtesy Alaska Native Arts Foundation gallery.
Keep updated Idle No More (Facebook)

Keep Updated Fight for the Future ... Demand Progress (Facebook) ... Occupy Wall Street (Facebook)
Videos - Last Week Tonight with John Oliver: Net Neutrality (HBO) ... The Internet's Own Boy: The Story of Aaron Swartz (Documentary)
Demand Progress - The Internet's Own Boy,' a film about Demand Progress founder and visionary Aaron Swartz, has made the Oscar shortlist for documentaries http://lat.ms/1yJieHQ

Gaming News
Never Alone (Kisima Ingitchuna) is an atmospheric zzle platformer currently in development at Upper One Games in partnership with E-Line Media and members of the Alaska Native community

The Long awaited debut Album of A LITTLE BIG BAND ... Members Personnel : Star Nayea: Lead Vocalist, Inspirational lyricist.| Gene Tagaban: Vocals, flute, poetry, traditional Native dance, Raven | James Luna: visual/performance art, spoken word | James Rasmussen: flugelhorn |Swil Kanim: violin | Captain Raab: organ,keyboards,synthesizers | Preston Singletary: native bass | Keith Montgomery: guitar | Terry Maloney: drums | Denny Stern: percussion | additional musicians:Peter Ali: flute| Thaddeus Turner: keyboards | Chris CD Littlefield: trumpet, efxs | Skerik: tenor saxaphonics |





Pamyua (Official Site)
Honring our Celebration 2014 Dance Groups and our 10 Celebration 2014 Canoes from Ketchikan, Wrangell, Sitka, Kake, Yakutat, Haines, and Hoonah. Photo right from Sealaska Heritage Institute. Photo right by Katarina Sostaric/KSTK). Sealaska Hertiage Institute Celebration 2014 (official site) One People Canoe Society on Facebook. Photographer Matika Wilbur's 174 pics of Paddle to Celebration 2014 on Facebook.

Dance Groups: 4th Generation Tsimshian, Aangun Yátx'i, Al'eixx'i, Chilkat Thunderbirds, Cordova Ikumat Alutiiq, Dághalhaan K'e, Dakhk'a Khwáan, Dakwakada Dancers, Deileseen Kwáan, Dikée Aankáawu Yátx'i, Eagle Raven Dancers, Gaawt'ak.aan Dancers, Gaaxw X'aayí, Gájaa Héen Dancers, Geisan – Marks Trail, Git Gyilhaawli Dancers, Git Hoan, Haandei i jin, Háws Dang Hl K'Ing Saang, Heinyaa Kwáan, Jilkaat Kwáan Heritage Dancers, JOM Mt. St. Elias, Juneau Drum Dancers, Juneau Kaagwaantaan, Juneau Tlingit Dancers, Kaigani Xaadaas, Keex' Kwáan, Killer Whale Dancers, Kodiak Alutiiq Dancers, Kuteeya Dancers, Ldakát Naax Satí Yátx'i, Mt. Fairweather Dancers, Mt. Juneau Tlingit Dancers, Mt. St. Elias Dancers, Noow Tlein, Saanya Kwáan, Sheet'ka Kwáan Dancers, Shx'at Kwáan, Sít' Eetí Sháanáx , Sitka Kaagwaantaan, Su Laxgayna, Tlingit & Haida Dancers of Anchorage, Tuulgundlaas Xyaal Xaadee, Wooshji.een, Wrangell Kaasatlaan, Xaaga-naa, Xootsnoowú Dachxanx'i Yán, Yaaw Teiyí, Yées Ku.óo.
Welcome to the 68th Gold Medal Tournament inTlingit Country March 16-22, 2014, Presented by the Juneau Lions Club (Offical Site)
Gold Medal Tournament Fan site
Gold Medal Tournament joined the Alaska Sports Hall of Fame in 2012
Champions of the W Bracket - YAKUTAT
Champions of the M Bracket - YAKUTAT ... Champions of the C Bracket - HYDABURG ... Champions of the B Bracket - Angoon


Professional Basketball - Photo Left Damen Bell-Holter signs to play for the Anadolu Efes basketball team in Istanbul Turkey for the 2014-15 season. Video Center the Fans of the Turkish basketball team Anadolu Efes surprise players at the Opera! ... Carlos Boozer and fans are L.A. Lakers!

From Sealaska Heritage Institute News -
Poet, Scholar, Historian, Tlingit translator Richard Dauenhauer 1942 - 2014 ... Sealaska Heritage Institute News ... The Tlingit language was incorporated into drills at a recent basketball camp in Juneau sponsored by Sealaska Heritage Institute. (Photo by Casey Kelly/KTOO) Kooch'eit'aa: Teaching the Tlingit language through basketball by By Casey Kelly (KT00, Aug 2014)
Worst. Babysitter. Ever. Wes Studi Is Ronnie BoDean by Jason Morgan Edwards (Indian Country Today) ... Photo right - Executive producer Chris Eyre (Smoke Signals), Wes Studi (Avatar, Heat, Disney Planes: Fire & Rescue) and director Steven Paul Judd have a quick word between scenes on the set of Ronnie BoDean. Ronnie BoDean on Fackbook
Silver Jackson at the 8th Annual Homeskillet Festival July 26th and 27th, 2013. Sitka, Alaska at the ANB HALL.
8th Annual 2013 Homeskillet Festival Headline Acts coming from all over the country : Kingdom Crumbs, Breathe Owl Breathe, Iska Dhaaf, Dustin Love Thomas, Katie Kate, Rockwell Powers, Ocnotes & Chocolate Chuck, Diatribe NW, Liv Wade, Shaprece, Silver Jackson, More acts TBA! ... Home Skillet Festival is a Summer music festival which takes place in Sitka, Alaska and is put on by the good folks at Home Skillet Records. Buy your tickets now before they sell out! ... We added the first ever Double Yodel video to help Home Skillet Festival sell Tickets!!!
Spring 2013 -- Little Big Band - with Angelica Flores, James Luna, Preston Singletary, Denny, James Rassmussen, Keith Montgomery,Terry Maloney, Swil Kanim and Richard Marshall at Northwest Folklife Festival, Seattle Washington. Little Big Band will be releasing their first CD soon.
Welcome to the 67th Gold Medal Tournament inTlingit Country March 17-23, 2013, Presented by the Juneau Lions Club (Offical Site)
Gold Medal Tournament Fan site
Gold Medal Tournament joined the Alaska Sports Hall of Fame in 2012
War Veteran Bailey Johnson part of the team that helped Angoon win their 3rd B Bracket Gold Medal title in 4 years ... Photo left - Haines' Dave Barry (44) has the ball stripped by Angoon's Bailey Johnson (15) as Angoon advanced to the finals ... Photo Center - 2013 B Bracket Champions Angoon ... Photo Right - Alaska Native Veteran's presentation of the colors to open 2013 Gold Medal Basketball.

Juneau Lions Club - 2013 Gold Medal Basbetball Photo Gallery ... B Bracket Most Valuable Player: Clayton Edwin (Angoon). Angoon tops Hydaburg 109-99 for Gold Medal B Title ...C Bracket Most Valuable Player: Travis Dybdahl (Hoonah). Huna tops Hydaburg 88-66 win for C Championship ... Masters Most Valuable Player: Rob LaRose (Klukwan). Klukwan tops Kake for Masters Championship.
RELIVE NBA'S GREATEST MOMENTS WITH PHIL JACKSON - Benefiting The American Indian College Fund
Southeast Alaska's Chicago Bulls Carlos Boozer 2013 Highlight video
Photo Right - Revisiting 2012 'C' bracket Most Valuable Player Rudy Bean of Kake's Tlingit Heat takes a victory lap. Tlingit Heat had just won their seventh 'C' bracket title in a row.
Video - LeBron James scores 37 leading Miami Heat over the San Antonio Spurs for 2013 NBA Championship.
Spring 2013: Photo left - Chief Shake's Tribal House rededication ceremony ... Photo Right - over 250 welcomed 7canoes from Southeast Alaska communities who traveled hundreds of miles to Shakes Island...Over 800 people took part in this historical event in Wrangell, Alaska ... Kaachxana -aakw (Wrangell) is one of the 5 Landless communities, which include Seet Kah (Petersburg), Deishu (Haines), Teinaa Geey (Tenakee Springs), and Kichxaan (Ketchikan) ... Chief Shakes - Wikipedia
Keep updated - Idle No More (on Facebook)
Photo Left - The Journey of Nishiyuu. Opening ceremonies. (Photo: Sherri-lynn Cookish) ... Video - Idle No More Round Dance Flash Mob at WEM in Edmonton ... Video Right - Idle No More at the Nugget Mall in Juneau, Alaska ... The World Drum Project supports Idle No More (Video)

Star Nayea's song -- We will all Rise Up ( Idle No More) ... Idle No More: Native-Led Protest Movement Takes On Canadian Government By Brooke Jarvis (Rolling Stone)

World Wide map of Idle No More Rallies (From Idle No More and Occupy Canada) ... Photo Middle -- LA Gray Wolf's photo Actor Adam Beach at Idle No More LA rally With special apperances by native celebrities Red Cloud, Crystal Lightning, Sam Bear Paw, and Hoop Dancer Sage Romero. ... Photo 2nd from right -- Idle No More at Union Sq rally, New York City — with Jasmine Rault and Artist Maria Hupfield at Union Square Park. Photo T.L. Cowan ... Photo Right -- Anonymous NDN on Parliament Hill Photo credit: Arnell Tailfeathers
Awake, Hungry and Idle No More By Naomi Klein - December 24th, 2012 ... Chief Theresa Spence's exceptional accomplishments By Alice Klein
Idle No More & Occupy Canada -- Amazing turnout today! a big thank you to the thousands who participated in the rallies, flash-mobs and events across Canada and the world today! Imagine the possibilities as we've only just begun. We couldn't do it without each and everyone of you. Your presence is making a huge impact. Keep spreading the word, let's keep this momentum going as we watch this movement grow! Idle No More and Occupy Canada in unity together standing up for mother earth and the rights and freedoms for our human tribe! Check this out since Idle No More started >communities that have taken part now includes 111 events in 90 places and growing! Check out the worldwide map here>>http://bit.ly/ZWzvNA courtesy of the great work of Tim Grows -D ... If you're helping to organize a rally that isn't showing, please email the map admin below.- "If you are interested in collaborating on this map, have information you want shared on it, or want to email for any reason you can reach me at timgrovesreports@gmail.com"

Videos - What is the Rolling Jubilee? ... Honoring Aaron Swartz
Rolling Jubilee ... Occupy Sandy ... Occupy Wall St.
Harvard Professor Confirms Bering Strait Theory Is Not Fact
By Simon Moya-Smith (Oglala Lakota journalist and blogger) Indian Country Today Media
Celebration 2012 (June 7-9) Juneau, Alaska (Sealaska Heritage Institute)
Canoe Welcoming greets people arriving for Celebration
You can't buy happiness but you can buy Garfield Katasse's Famous Alaska Fry Bread
Photo - Xudzidaa Kwáan Dancers of Angoon ...... Video - Celebration 2010 by By Mike Rudyk & Cherish Clarke (DigitalEngineProductions) ...... Photo - Ross Nannauck III of Seet kah (Petersburg, Ak)
"Strengthen Yourself"--Ayanaltseenáa (Tlingit) Án hl is daguyáa (Haida) Lip sha gotgyednshm (Tsimshian)
Celebration is a major dance-and-culture festival held every two years. First held in 1982, it has become the largest cultural event in the state, drawing thousands of people to the capital. Along with dance performances, it features associated events, including a Juried Art Show and Competition, Native Artist Market, Native Artist Gathering., seaweed and soapberry contests, a Toddler Regalia Review, workshops, lectures and a parade through downtown Juneau. Celebration 2012 will be led by the Xudzidaa Kwáan Dancers of Angoon (above). Also, for the first time Sealaska, through its subsidiary Haa Aani, will host an Oyster Fest at the SHI lot, across from Sealaska Plaza downtown.

Pamyua (Official Site)
Brock Stonefish (Delaware Canadian) is the cuz of George Stonefish of the Slivercloud Singers of New York City ... Gary Farmer and the Troublemakers
Pura Fé Trio - Woman Sacred
Wayquay Ghostflower

Silvercloud Singers of New York City
Joanne Shenandoah (Official Site)
"Beyond all ideas of right and wrong there is a field, I'll meet you there" Rumi


Lets Go (Naxtoo.aat in Tlingit) - Shoowee ka' & the Ravens hijack Garryowen a old Irish quick-step turning it around. Tlingit artist Jesse Cooday's Tlingit name is Shoowee ka' and his back up band are the Ravens.


Artist Jimmie Durham sings!
Hide Away Directed by Chris Eyre
Featured Artists
Al ' Mean Machine' Valentine won the split decision to defend his title and deny Duckworth the chance to become the only fighter to win championships belts in all three weight classes. Valentine also stopped Duckworth in last year's Southeast Showdown heavyweight championship. Duckworth holds light and middleweight titles. Southeast Showdown Championships at Marlintini's Lounge, Juneau Alaska.
Juneau's Al 'Mean Machine' Valentine defends heavyweight title again By Klas Stolpe (May 7, 2012 -- Juneau Empire)
Featured -- Past First Nation Artist Benifit Concerts for our people.
THE LONGEST WALK 1978 - 2008 ... The Longest Walk (MySpace)

Sacred Run 2006 Benefit Concert Artists, Runners and Supporters...Sacred Run Calendar from San Francisco (February 11), New Orleans, United Houma Nation March 25th Concert Headliners: Don't Lose Hope (MP3) by Cannes Brulees ... Martha Redbone ... Treaters ... C*ReAL Films has filmed the entire Sacred Run event, from the Benefit Concert in San Francisco to the arrival in Washington DC. .. .Sacred Run needs your help with unexpectedly high gas costs ! ... First plans for Sacred Run 2008. Plan now to participate!


Support Six Nations Land Reclamation! June 16: Concert for Kanenhstaton (The Protected Place). Emcees: Gary Farmer, Cheri Maracle, Brandon Oakes and Adam Beach. Artists include: Keith Secola, Willie Dunn, Diggin Roots, Moiety, David R. Maracle, Raven and Shoshona, Jacques and the Shakey, Tonto's Nephews -"Native Skit Artist", Little Wolf, Joseph Firecrow, Howard Lyons, Shane Anthony Band, Jasmine Netsena. Plus Many More! ... also resource link Six Nations Solidarity news ... What you could do.
Our Celebrity site has grown over the years so we are starting Our Celebrity Archives
Our Celebrities - Archive (Coming Soon)
Web Page Designed by Jesse Cooday
Copyright © Oct 1996-2015 Jesse Cooday (Shoowee Ka')