Celebration 2006
Honoring our Dance Groups - Lda Kut Naxx Sati' Yatx'i (All Nation's Children) ... Alaska-Hawaii Youth Exchange Dancers ... Heinyaa Kwaan Dancers... Xaadas T'ak'anlang Dancers ... Dakwakada Dancers ... Daaxaat Kanadaa Dancers ... Keex' Kwaan Dancers ... Seet Ka Kwaan Dancers ... Shx' at" Kwaan dancers ... Kaats' litan Dancers ... Kaagwaantaan Dance Group ... Shangukeidi Dancers ... Git-Hoan Dancers ... Celebration 2004 Dance Groups.
Concert "Raven Brings Box of Delight" with Smokehouse and Little Big Band at Celebration 2006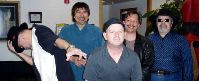 The six-piece band Smokehouse, from left, Archie Cavanaugh, vocals, bass & guitar; Walter Jack, vocals & guitar; Donnie Wells, drums; Doug Badilla, vocals & keys; and Mike Tamer, vocals & guitar. New guest singer Salissa Cooper is not pictured.
Singer-songwriter-record producer, Archie Cavanaugh, recorded his album "Black & White Raven" with "Redbone" members Tony Bellamy, Pete DePoe and also renowned saxaphonist Jim Pepper. Lolly Vegas, the "Redbone" leader also helped him mix his album in Los Angelos. Archie says "It's an honor to be apart of this exciting musical and drama extravaganza, making it extra special to perform for the Native people of Southeast Alaska and the Northwest Coast!
Seattle glass artist Preston Singletary has formed the eight-piece Little Big Band, a group of musicians and artists throughout the Lower 48. The group includes Singletary, singer Star Nayea, flute player and Tlingit performer Gene Tagaban, Southern California performance artist James Luna, trumpet player James Rasmussen, guitarists Maurice Caldwell and Keith Montgomery and drummer Terry Maloney.

Alaskan Frybread at Celebration 2006
"People like their frybread nice and warm; that's why I make it fresh," he said. "I just want to make sure they're happy." Garfield Katasse has been cooking frybead for years. The dish is a family affair. One sister, Grace Larson, covers Sitka. Another, Mary Miller, sells frybread in Petersburg. Katasse has lived all over Southeast and New Mexico. He learned to make frybread during his stays on Apache, Pueblo and Navajo reservations in the Lower 48. From Article Frybread flies at Celebration By Korry Keeker, Juneau Empire.
Web Page Designed by Jesse Cooday
Copyright © Oct 1996-2009 Jesse Cooday (Shoowee Ka')