History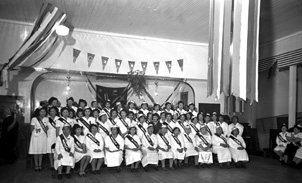 ANB & ANS Convention in Angoon, November 1945 from William Paul, Jr., Collection by Sealaska Heritage Institute
Collections - Sealaska Heritage Institute houses a wealth of materials pertinent to Alaska Native cultures, languages and historical events. The collections library includes primarily historical items, such as photographs, recordings, documents and objects, donated to SHI from private collections. SHI also has collected numerous recordings of Southeast Alaska Native oral tradition, dance, song, regalia and cultural protocol. Some materials, such as old film footage, are too fragile for general handling, and SHI is in the process of duplicating and digitizing those materials. The institute is working to create a virtual archive center to make more of the collection available to the public.
Remembering Elizabeth Peratrovich from Alaska Native Sisterhood Camp #2, Juneau, Alaska
Remembering Tlingit Leader Judson Brown (PDF format)... Central Council Historical Timeline by Central Council Tlingit and Haida Indian Tribes of Alaska
On This Date In North "American Indian History - Over 3000 historical events which happened to the indigenous peoples of North America. Also Tribal name meanings and alternative names, Indian "moon" names.
American Indian History and Related Issues | First Nations Histories | Today in History - by History Channel.com | History Timelines ... The History Beat |
Web Page Designed by Jesse Cooday
Copyright © Oct 1996-2009 Jesse Cooday (Shoowee Ka')